LG's Ultra Premium OLED TV Lineup
LG OLED TV BX6LB
Impressive Picture and Processor
LG OLED TV CX6LB
Elegant Glass Design
The closest thing to cinema size in an LG TV. Every square inch is revolutionary, from its 88″ screen size to its 8K picture that unveils four times the resolution of 4K. It's the latest level of resolution with over 33 million pixels.
*Image quality of upscaled content will vary based on the source resolution.
**Native 8K content requires HDMI 2.1 (FRL) source device or use of LG-supplied upgrader box for USB and streaming sources. Upgrader box supports AV1, HEVC, and VP9 video codecs and requires use of 1 HDMI and 1 USB television input. Future industry standards may change and require additional devices.
Next Gen Processor Meets Impactful AI
The masterpiece you see on screen is made possible by the brain within the television. Plus, the revolutionary α9 Gen 2 Intelligent Processor optimizes and adapts to deliver the best picture possible, and upscales 2-channel audio to virtual 5.1 surround sound. LG's best 4K processor brings images, actions, and color to new life.
World's Most Intelligent TV
"What's the weather like tomorrow?"
LG AI TVs are the first with the Google Assistant1 and Alexa, using LG ThinQ AI technology to become the center for your connected home2.
"Play music from 1986."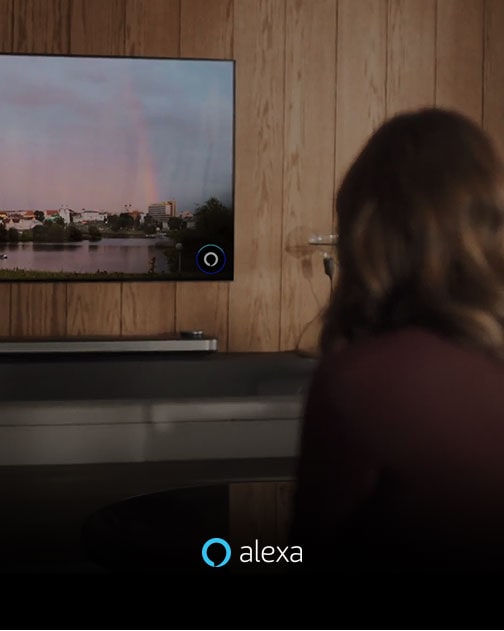 LG OLED TV C9
Available in 77-inch
LG ThinQ AI | Google Assistant | Alexa
α9 Gen 2 Intelligent Processor
Dolby Vision® | Dolby Atmos®
The Details Made Clear
Even the darkest scenes bring out the shadowy details thanks to LG OLED TV's 8.3 million individually lit pixels that can brighten, dim or power off completely. Each helps to create a perfect black that allows for an infinite contrast.
LG OLED TV E9
Glass TV Design
LG ThinQ AI | Google Assistant | Alexa
α9 Gen 2 Intelligent Processor
Dolby Vision® | Dolby Atmos®
A Cinema Feel.
Experienced at Home with Dolby.
Advanced image and sound technologies inspired by the cinema optimize picture and sound for a spectacular, more lifelike experience in every scene—it's an ultra-vivid picture and powerful, moving audio that seems to flow all around you.
"Perfect black is the portal to perfect color."
– Michael Uslan, Producer, Batman
Thinner Than Thin
Part of what makes LG OLED TV so incredible are the self-illuminating pixels. They require no backlight, which allow the television panel to take on forms that were previously impossible, and seamlessly blend in with any room.